Robert Trent Jones Golf Trail, Alabama
Robert Trent Jones Golf Trail is a collection of golf courses that stretch from one end of Alabama to the other. This club was designed by one of the world's best architects in the 1980s. This course represents the fields with 468 holes that are distributed to 11 different courses. The main feature of this project is its' diversity, that is why the courses vary in complexity and length. The shortest field is 4,700 yards, the longest is more than 8,100 yards, and it is also considered to be the third longest in the world.
It is very easy to plan a trip to this place, because eight of the eleven fields are served by excellent hotels. Most of the fields are located near the interstate, so you'll be able to find this place very easily.
Hawaii
Hawaii is a paradise for golfers. Naturally, breathtaking surroundings, combined with a unique design of the courses, and also the presence of first class hotels attract golf players from around the world. In Hawaii there are more than 70 golf courses. The six Hawaiian islands have something to offer for every golf lover. One of the most famous golf courses in Hawaii is Mauna Kea Golf Course, where there are 16 public golf courses. This golf club is also famous for its par-3 third holes. On the island of Oahu there are more than 40 golf courses, five of which are for private use, as well as nine are military courses.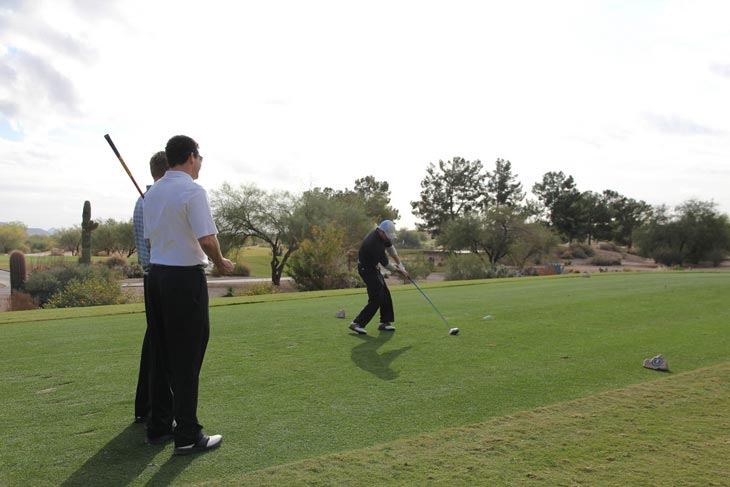 Palm Springs, California
Snow-capped San Jacinto Mountains offer the perfect backdrop for a stunning game. In Palm Springs, you can play on 125 golf courses. The highlight of the Palm Springs is the presence of a large number of courses for celebrities. Golf Club The South Course, which is located in the Indian Canyons Golf Resort, was rebuilt in 2004 by Casey O'Callaghan and is considered to be one of the most important and best golf clubs for women.
Colorado
Colorado has a huge number of golf courses that are located all over the place. If you are able to conquer the height, be sure to play on the courses, which are located in the mountains of Colorado. Most golf clubs are located here near the major resort towns and make their way through aspen groves and ponds. Golf Club The Raven at Three Peaks is famous for different elevation changes, and the club Red Sky Ranch & Golf Club offers stunning views of the mountains. In the summer between Denver and Palm Springs players are lured to The Country Club at Castle Pines, which was opened in 1981. Do not worry about that you need to be a member of the club; it is open to all golfers.